Furniture Removal in Burbank, CA, Glendale and the San Fernando Valley Areas
Furniture removal services are just a phone call away. Do you have an old couch or sofa that's seen better days? Are you replacing your table and chairs because they're worn out, ancient or out-of-date? Perfect! But what do you do with your old furnishings? Short answer: call us! Unless you have a pickup truck or van AND the free time an money to haul those old furnishings to the dump it's going to be a hassle. Hiring a furniture hauling company really is the way to go! And BumbleBee Junk is here to make your life easier.
Just call us and let us know what items you need removed, about how big they are and of course your location. Our prices are ALWAYS lower than the "brand name" hauling companies, plus we will beat any competitors' quoted price so it's a no-brainer. BumbleBee Junk has been removing old furniture in the Sun Valley, Burbank and Glendale areas for years. We also serve all of greater Los Angeles as you see
on this map
. We are not limited to a specific region, so if you live anywhere from Thousand Oaks to the San Fernando Valley to Simi Valley please call us. When you have old tables, sofas, desks or anything else you need hauled away we'll give you a free, no-obligation quote on our removal services. If you want, snap a photo with your smart phone and send it to us. We'll have a better idea of how much space your item or items will occupy in our truck. Anything that can be compressed to take up less space in our truck will be. We do that for two reasons. First, it saves you, the customer, money. You don't need to pay for space if it isn't necessary. Second, if we have another customer nearby, we can save on trips and complete two calls at once.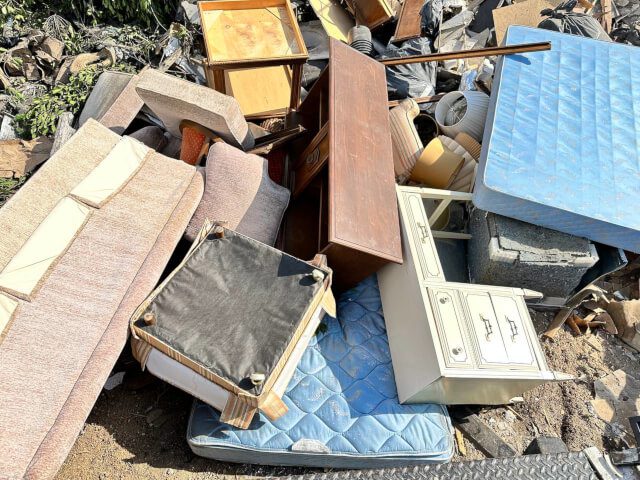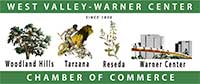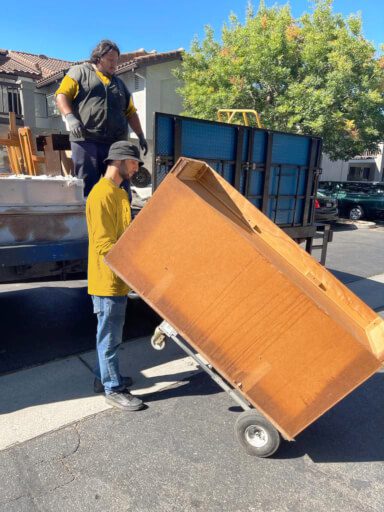 Why Choose Us for Your Furniture Pick Up Needs?

• We are local. We make our home right here in the Valley. We are not a chain and we don't spend money on advertising. That's why we can ALWAYS beat the big name furniture pick up companies.

• We are your neighbors. It may not mean anything to the big chain companies if they lose a customer, but it does to us. We built our business on customer service and we want to do the best job for our customers. We depend on word of mouth to get new customers.

• We take our job and your property seriously. We know that especially with big, bulky things like furniture, special care has to be taken to remove those items from your home or office without damaging anything in the process. We treat your property the same as we would our own homes. Unlike other old furniture removal companies, you can expect us to leave your home cleaner than we found it.

• Finally, we don't charge by distance as some of our competitors do. If you live in Simi Valley, Burbank, or Van Nuys, you will pay the same price if you have the same item or same amount of furniture to be removed.

That first step is to call us. Allow us to take your information and give you that no obligation quote. If it sounds good (and it will be!) we'll set up a pick up time that works for you. It's in our best interest as well as yours to get the job done as quickly as possible to make your life easier and to allow us to service other customers in the area.


Five Star review (on Google My Business)

The service was fast and efficient, I called and within two hours the rubbish was gone. A perfect service.

I needed my garage cleaned out (what a headache) Bumblebee Junk had it gone in no time. Well worth it!

If you're like me you keep putting off getting rid of stuff. My wife couldn't take it anymore so I called these guys and my excess junk is now gone. Thanks!!

Called and let them know how much junk I had. They gave me an estimate. They ended up using less of the truck because they compact things. I was very pleased with the work and would recommend them.

Good work. Needed some furniture moved out. These guys did it same day. Highly recommend.

I never used a junk removal company before but somebody said they worked with these guys. I gave them a try and wasn't disappointed. They moved out my broken wardrobe (heavy!) without a problem. Thanks.

Outstanding service. I looked for junk haulers in my area (Burbank) and found Bumblebee. Glad I did. They cleaned out my garage and swept everything clean before leaving. Thumbs up!

I needed my whole garage gutted for spring cleaning. I called around to several places trying to find the right deal. I called and talked to Steve and the price was right and they came the next day. I would highly recommend them to any family or friends!

BumbleBee Junk was awesome! They were on time, professional, quick, friendly, and honored the quote I was given over the phone. Their rates were very reasonable for the stuff I had, some of it very heavy (like car engines)! I would definitely recommend them to friends and would use them again if the need arises!

The rates were the best I got. I had old mattresses, furniture, my wife's sewing room, and more. They were on time, quick, and friendly. Thanks.
---
We Are Experts At Removing Old Furniture Items


The longer you live in a place, the higher the chances you're going to wear out your furniture. Life, children, pets and accidents all play a role in the deterioration of furniture and the time will come when you need to replace those worn-out items. Sometimes even a still-sturdy sofa will appear outwardly shabby, but the cost of reupholstery is prohibitive. It's cheaper to buy new than to try to maintain an old couch. Things like sofas are so big and bulky that it's not the easiest thing to replace without the help of a company like ours. But, as we've mentioned time and again on this site, if it can be donated, it will be. An old sofa can provide work for people at the many charitable organizations in our area and the resale of that refurbished item means the profit goes to a worthwhile cause. Unless it's beyond repair, we're not going to take that old furniture to the landfill.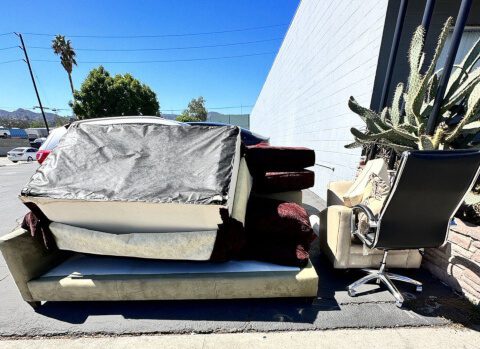 ---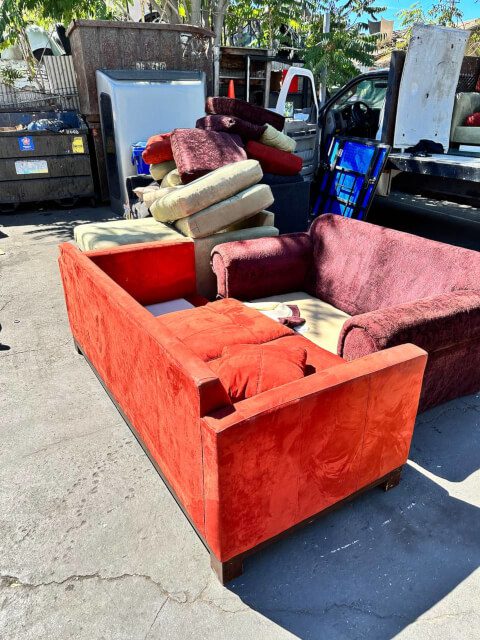 Find Furniture Pick Up in Burbank, CA, Los Angeles and the surrounding SFV Area By Contacting BumbleBee Junk Today


A beautiful home is something to be proud of. When it's time to rid yourself of your outdated, unwanted furnishings and replace them with new ones let us be the first name your think of when you need hauling help.

Not only that, but a safe home is important too. Whether it's to make a better living space for your family or to increase the value of your home when trying to sell it, make us your go-to furniture pick up service in Pacoima, North Hollywood, Van Nuys or Studio City. Call us today at (844) 647-2727 and let us take your old furniture off your hands.
---