How much can fit into a truck?
- Our trucks and trailer sizes vary, but we will condense your stuff and give you the better rate.
- Dimensions = 6 feet wide by 6 feet tall by 13 to 15 feet long.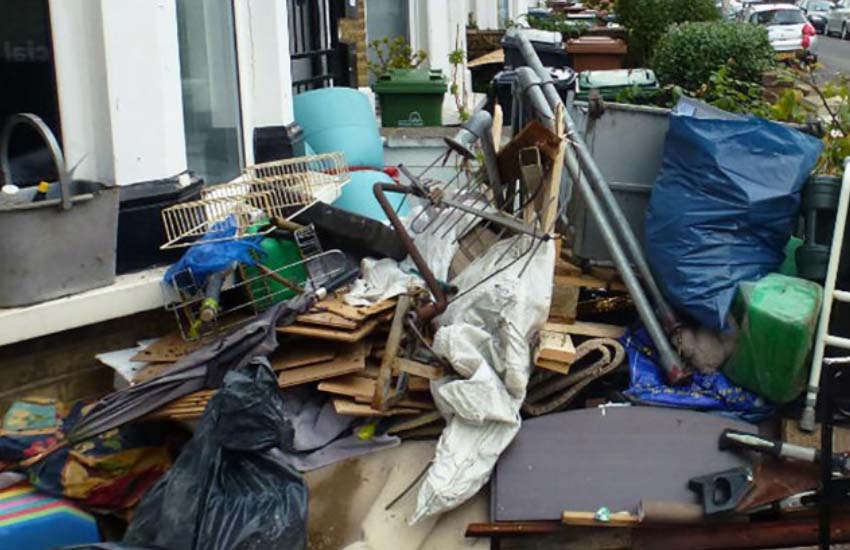 When you would like to hire or contact a junk removal service, we put together a list that may help you in your decision:
- A great junk removal service will have adequate resources, trucks, equipment, tools, and friendly workers with smiles eager to do a great job. Large trucks for large jobs, small trucks for those windy street in Glendale or Pasadena or in the Hollywood Hills.
- A great junk removal service will not refuse any type of junk. If you want the item removed or a storage clean up, then this is what needs to occur. There may be times that certain junk may require additional handling, however this does not mean refusal. By responding to customer requirements and work to remove or dispose of any type of unwanted junk. Hazardous materials such as fertilizer, oil, gas, etc may require extra.
- A great junk removal service will be competitve in price, simple to understand, and willing to work with you. Most companies based junk on volume (how much of the truck does it fill up) and weight (will it require dumping which is based on weight).
- A great junk removal service has experienced and trained employees able to handle any customer request or need. This includes customer service skills. Not just the ability to lift, haul away, and storage clean up.
- A great junk removal service will have an established policy or process of how they dispose of the junk. Recycling centers, scrap metal yards, other facilities that can reuse any material or junk to minimize more junk going to a landfill. Processesing or disposing of non-hazardous or hazardous in a responsible manner keeping in mind the community and the environment.
- A great junk removal service will have a very fast execution and removal time. From the time the customer wants the junk removed to the time the truck shows up at the junk removal location. This should occur within 1 -3 business days or 24-72 hours. This includes leaving the area clean and junk free - ready for the customer to use the space again.