We Provide Garage Cleanout In Burbank, CA, Glendale, Van Nuys and the San Fernando Valley Areas.
Garage clean out is sometimes a necessity when it's being used to store junk and not automobiles (or other items that truly belong in a garage). When is it time to clean out that garage? When it starts making you life more difficult. If it's hard to move about your garage or if you're making concessions such as parking your car(s) outside instead of inside your garage then it's time to hire a hauling service like BumbleBee Junk. Exposing your car to the elements means its paint can deteriorate faster and lead to a lower resale price or the cost of a new paint job. Even here in the Burbank area, during the summer the hot sun can definitely hurt your auto's paint. It's just one more way that a junk removal service can ultimately save you money. Piles of unused rubbish, old papers or other items may also be a breeding ground for pests which can carry disease. There are a lot of reasons to get rid of garage junk and those are only two. BumbleBee Junk serves the local Burbank and Sun Valley area as well as Simi Valley, Glendale, Pasadena or any of the locations you find on our
service areas map
at the bottom of this page.
If a too-full garage is driving you crazy, take the first step and call us for a free, no obligation estimate for a clean-out of your garage. Items that can be compressed to take up less space on our truck(s) will be squeezed and squished to reduce the cost of removal of your items. If you have the dimensions of your garage handy or that of the items taking up space, let us know so we can estimate the cost of removing that junk. Of course we can do an on-site evaluation as well for an accurate junk hauling quote.
Why Use Us for Your Garage Cleanout?

• We are a local, independently-owned company, not a national chain. Since we don't spend a lot of money on marketing we don't need to mark up our prices. We are also a professional company, not a fly-by-night business that may not exist tomorrow. We've been in business since 2015 and we're here for the long haul—literally!

• We are professionals. We're a licensed company, not just a guy with a truck. We are trained to safely and efficiently remove items from your home without damaging your garage or causing injury to you or to ourselves. We provide peace of mind in addition to convenient and friendly hauling.

• We treat your property with respect. Since we work and live in the same areas as our customers, we strive to be good neighbors. We'll safely and efficiently remove your items and leave that space tidy and clean. We'd want the same for ourselves.

• You pay the same rate no matter where you live. If you're located in Burbank, Sherman Oaks or Van Nuys, we do not charge extra for our travel.

When excess "stuff" pushes you out of your own home, it's time to hire a company that can give you back your space and peace of mind. Call us toll-free at 844-647-2727 to schedule a clean out.


Five Star review (on Google My Business)

The service was fast and efficient, I called and within two hours the rubbish was gone. A perfect service.

I needed my garage cleaned out (what a headache) Bumblebee Junk had it gone in no time. Well worth it!

If you're like me you keep putting off getting rid of stuff. My wife couldn't take it anymore so I called these guys and my excess junk is now gone. Thanks!!

Called and let them know how much junk I had. They gave me an estimate. They ended up using less of the truck because they compact things. I was very pleased with the work and would recommend them.

Good work. Needed some furniture moved out. These guys did it same day. Highly recommend.

I never used a junk removal company before but somebody said they worked with these guys. I gave them a try and wasn't disappointed. They moved out my broken wardrobe (heavy!) without a problem. Thanks.

Outstanding service. I looked for junk haulers in my area (Burbank) and found Bumblebee. Glad I did. They cleaned out my garage and swept everything clean before leaving. Thumbs up!

I needed my whole garage gutted for spring cleaning. I called around to several places trying to find the right deal. I called and talked to Steve and the price was right and they came the next day. I would highly recommend them to any family or friends!

BumbleBee Junk was awesome! They were on time, professional, quick, friendly, and honored the quote I was given over the phone. Their rates were very reasonable for the stuff I had, some of it very heavy (like car engines)! I would definitely recommend them to friends and would use them again if the need arises!

The rates were the best I got. I had old mattresses, furniture, my wife's sewing room, and more. They were on time, quick, and friendly. Thanks.
We Are Residential Garage Cleaning Pros
Garages in The San Fernando Valley are really no different than anywhere else the Country. In many cases we end up using our garages for storage instead of for our automobiles. Over time, we can accumulate so much stuff that it's impossible fit anything else in these areas. There are many good reasons why you should hire a professional garage cleaning team like us, but ultimately you will decide when the time is right to make better use of your garage space. An overcrowded space can pose safety hazards—falling items, or someone tripping over something. For homeowners, property owners or business owners, maintaining a clean, safe apace can also prevent—in some cases–injury lawsuits. Yes, believe it or not, someone is injured on your property (for example a service person or delivery person, etc.) you can be liable for their injuries.
That being said, when you've made the decision to empty your garage, choose a reputable, licensed company that you can trust. BumbleBee Junk is ready, willing and able to help you reclaim that precious space. We pride ourselves on being one of the lowest-priced junk removal teams in Los Angeles, as well as the friendliest. Our marketing consists of word-of-mouth recommendations from
satisfied customers
so it's important that we do a great job for you and your family. It's vital to us that you are happy with the services we provide.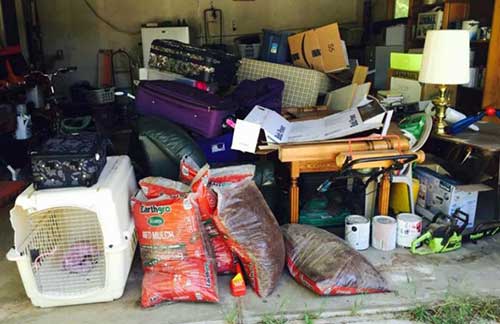 ---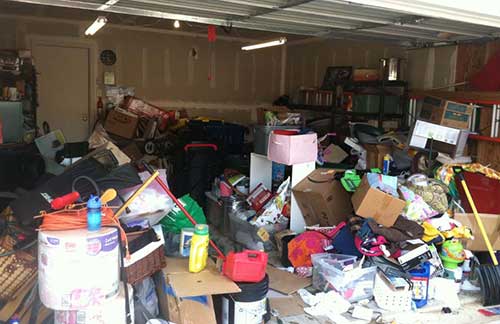 Request A Garage Cleanout in Burbank, Glendale or Van Nuys By Contacting BumbleBee Junk Today
From Chatsworth or Thousand Oaks to Porter Ranch, We're the Company to Call
No matter where you live in Los Angeles County BumbleBee Junk is as close as a phone call. The sooner call us for that garage cleaned out, the sooner we can make your home a safer, healthier place to live. We like to think of it as a win-win situation. And honestly, who doesn't want more space to make use of in their home? Ready to get started? Call us today at
(844) 647-2727
or shoot us an email via our website.
---
BubmbleBee Junk in Based in Sun Valley, CA, and provides residential and commercial garage clean-out services from the Burbank / Glendale areas, through Los Angeles County and even Ventura County. We will also serve communities like Simi Valley and Moorpark to help our neighbors who are ready to clean out cluttered garaged. A few of the areas we service, include:
Los Angeles
Burbank
Van Nuys
Sun Valley
Simi Valley
San Fernando Valley