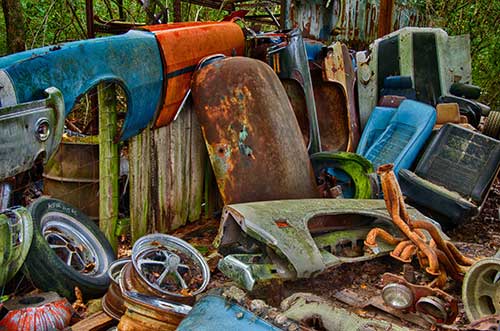 Junk Hauling in the San Fernando Valley
Removing junk in Chatsworth, Woodland Hills, Studio City, North Hollywood or any other community you can name is the province of BumbleBee Junk.
"Junk removal in the San Fernando Valley" is one of our taglines—or should be. We think we're the best San Fernando Valley junk removal company because of the hundred of customers we've served in the Valley. And the Valley is our home: we're located in Sun Valley, CA. It doesn't matter if you need junk pick-up at your San Fernando Valley apartment, office, house, need a bulky items pickup or removal of demolition or construction debris, BumbleBee Junk is the one call you should make. We serve the entire San Fernando Valley (and more!) with our junk removal service, so when you have a large amount of junk or just a little, phone us at (844) 647-2727.
Junk Pickup in the San Fernando Valley
The Valley is home to millions of people. Each one is a life lived accumulating so many things over the years. Some of those things have useful life cycles but at some point they need to be disposed of. When you find that you've accumulated an excess of junk and want professional junk removal services in the San Fernando Valley, punch in our number and call the junk pick-up experts at BumbleBee Junk. When we get your call, we'll find a time convenient to you to remove your junk, debris, "stuff" or however you choose to name it.
BumbleBee Junk staff are junk removal specialists. What does that mean to you? It means we go about removing your junk efficiently and courteously, leaving your residence or office space neat, tidy and junk-free. To us it makes no difference whether what you call junk is an old sofa, an old vinyl record collection, an ancient VCR (remember those?) or old household appliances. If you need it gone, BumbleBee Junk can take handle it. Our pro team has the skills and vehicles to take away pretty much anything you need removed. We pride ourselves on having our own dedicated fleet of vehicles specifically designated for junk removal and we're standing by waiting for that call to remove that junk from your facility, home or office. Following the actual junk removal, we spend the time to beautify those formerly junk-filled areas, sweeping to clean perfection.
Residential or Commercial San Fernando Valley Junk Removal
Best-Priced Junk Hauling
San Fernando Valley homes, offices or elsewhere, call us and we'll be Johnny on the Spot to remove the junk you can't live with another minute. From removing old refrigerators to worn-out rugs, old furniture or 50 years' worth of TV Guide issues (trust us, we've seen it all), if you call it junk, then junk it is and we shall remove it.
We know we can also save you money. Hiring BumbleBee Junk is the smart move since we have a lower overhead than some of those nationwide junk hauling companies. You can save potentially hundreds of dollars with BumbleBee Junk. Phone our helpful, courteous team and they'll be more than happy to arrange a junk removal appointment in the San Fernando Valley from Glendale to Woodland Hills and all points between. We are committed to making customers happy by taking those extra steps to go beyond all your junk removal expectations. If we have to meet in person beforehand, we'll arrive at your location to determine the scope of the job and will give you our free junk removal quote. You'll understand just what to expect from us. Our San Fernando Valley junk removal business has been built of the hundreds of satisfied customers we've served and it's the cause of our continued success. Let the specialists at BumbleBee Junk make you one of our satisfied junk removal customers!
Sample Junk Removal Items
Construction Debris removal
Office furniture Removal
Obsolete Appliances
Patio Furniture Removal
Old Mattresses Removal
Click here for a list of acceptable items for junk removal
Other Areas we serve:
Junk Removal Burbank
Studio City, CA
Junk Removal Simi Valley
Van Nuys Junk Removal
Junk Removal in Los Angeles, CA
Directions from the west San Fernando Valley to BumbleBee Junk:
© 2021 BumbleBee Junk