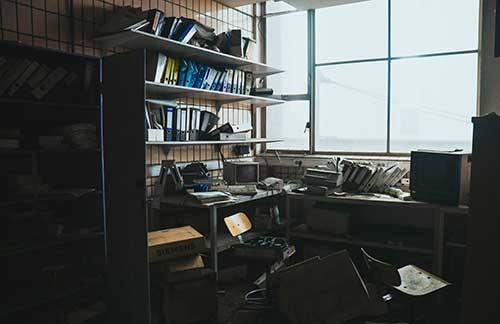 Junk Hauling in Van Nuys
"Junk removal Van Nuys" has a ring to it, don't you think? Well, we certainly do because we're the top Van Nuys junk removal company. We serve Van Nuys and every other city in the Valley. We're located just a stone's throw from Van Nuys in Sun Valley, CA. It makes no difference if you need junk hauling from your Van Nuys rental unit, apartment, office, house, need help with bulky item removal or getting rid of whatever's left over after construction or demolition, BumbleBee Junk is ready to help. We have helped many Van Nuys customers with our junk removal expertise, so whether there's a ton of junk or just few pounds, call us at (844) 647-2727.
Van Nuys Junk Pickup
In the center of the Valley, Van Nuys is the home of many Angelenos. Each of us accrues so much material in the course of our lives. After serving their purposes those things get old, wear out, break or otherwise turn into junk. Given enough years and enough accrual of "things" you're going to find at some point you need professional junk removal services. If you're looking in Van Nuys, take down our number and call the junk haulers extraordinaire at BumbleBee Junk. When you call, we'll set up a time that works for you so we can remove your junk in a timely manner.
The team at BumbleBee Junk are pros at junk removal. Not only that, our entire team takes customer satisfaction to new levels. When you hire us you get junk removal that's efficient and courteous. We also take care to leave your previously junk-laden location clean and beautiful. It is irrelevant if your so-called junk is an old mattress, an old DVD collection, outdated or non-functional electronics or old furniture. If you want it removed, BumbleBee Junk will do just that. Our friendly team has the experience, courtesy and fleet of trucks to haul off just about anything you need hauled. We are proud of our own dedicated fleet of trucks and trailers designated specifically for removing junk and we're going to be here awaiting your call to come pick up that junk from your home or office. Once the actual junk removal is complete, we take the time and go the extra mile to clean up your formerly junky areas
Commercial or Residential Van Nuys Junk Removal
Lowest Cost Junk Hauling
Van Nuys businesses, homes, or rental properties, call us today. We'll be ready, willing and able to remove the junk that's overtaking your garage or your life. From removing old TV sets to non-working machinery, old clothing or the effects of hoarding, if it's junk in your eyes, it's junk to us and it will be gone in a jiffy.
BumbleBee Junk saves you money, too. Using BumbleBee Junk makes sense because of our lower overhead. Those national junk hauling companies have to pay for all that marketing and pass the expense on to you. You can save serious cash with BumbleBee Junk. Call our friendly staff members and each one will be glad to set up a junk removal appointment in Van Nuys. We are dedicated to happy customers and will do those extra things to make sure you're satisfied. Good customer reviews are our life blood and the reason we succeed. If we need a face to face meeting beforehand, we'll come to Van Nuys, determine what you need and will provide you a free quote for junk removal. You'll then know just what we will do on your site and when. Our Van Nuys junk removal business is the product of the dozens of satisfied customers we've had the privilege to help. It's the reason for our growth year after year. Let the experts at BumbleBee Junk turn you into another one of our happy junk removal customers!
Sample Junk Removal Items
Office furniture or equipment removal
Construction debris removal
Obsolete appliances
Patio furniture removal
Mattresses removal
Click here for a list of junk removal acceptable items.
Other Areas we serve:
San Fernando Valley Junk Removal
Junk Removal Burbank
Simi Valley Junk Removal
Junk Removal in Los Angeles, CA
Studio City, CA
About BumbleBee Junk
Sun Valley-based BumbleBee Junk has been serving Van Nuys for years. We're San Fernando Valley experts. Our junk hauling team knows how to handle whatever, trash, garbage, yard waste or construction/demolition debris you may have. We have the knowledge, the vehicles and superior customer service to take on any hauling job, big or small. Simply contact us so that we can provide you with a FREE price quote which will always be lower than the "big guys." We won't be beaten by ANY local competitor and will beat any recent quote you receive.
We can pick up you junk no matter where you are in Southern California but our friends in zip codes like 91404, 91407, 91408, 91409, 91410, 91401, 9140 , 91406, 91411, 91482, 91499, 91470 know that we're a stone's throw from Van Nuys.
Nearby Hotels in Van Nuys, CA
Holiday Inn Express
Airtel Plaza Hotel
Nearby Restaurants in Van Nuys, CA
Lusy's Cuisine
Sweet Blessings
Chelo
Nearby Attractions in Van Nuys, CA
Van Nuys DMV
Van Nuys High School
Valley Presbyterian Hospital
Directions from Van Nuys, CA to BumbleBee Junk:
© 2021 BumbleBee Junk
Reviews
---